Stunning Metal Cottage Home Kit for $30,459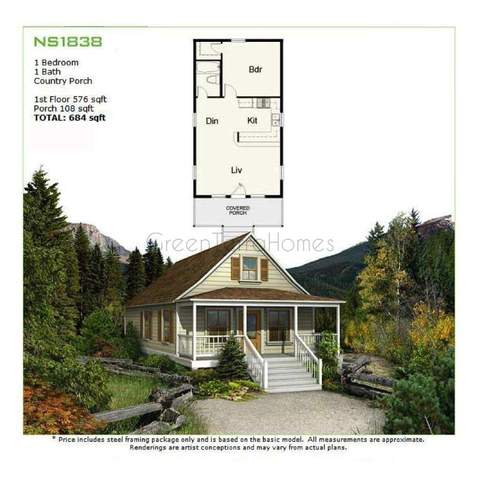 Looking for that special cottage to place on your lot? This lovely metal cottage home kit exterior can be as adorned  just as you would like!
As shown on the feature photo it has a lovely shingle roof, matching the window shutters with a covered porch or you can go full metal as in the other photos that are shown with an open deck. The choices are yours with this bungalow style home.
You'll be excited as you choose your interior finishes as this home features an open style ultra-modern kitchen, perfect for entertaining as well as quiet nights at home. Add your sleek and contemporary tiled bath that will have you feeling like you visited a spa and you'll enjoy every shower. The options are endless as you build and finish your Metal Cottage Kit Home.
Whether you are just starting out, downsizing or enjoying a second home, this Warburton Layout is the ideal choice to get started in building metal kits. Use this home for guests or live there yourself! The one-bedroom, one-bath layout is perfect for singles and couples.
Set this home on that ideal lot, perhaps in the mountains or by the beach. Imagine yourself sitting on the porch or deck and enjoying the views. This is a house you will cherish for a long time to come.
You will like that this manufacturer offers you services on-site to provide necessary work needed for foundations, excavation, assembly and other services. Perfect for the purchaser just starting out in prefab homes.
Shell Packages are in easy ship sections that are designed and manufactured ranging in size from:
Maximum width from 16′ (including overhang)
Maximum height of 10′ exterior dims, folding roof trusses available to increase final assembled height.
Max length 60′ – exceptions apply based on other dimensions and destination.
Specs and Pictures
House Specs:
1 bedroom 12′ x 11′, 1 bathroom, Living room 17′ x 10′ Dining room 7 x 10, Kitchen 9′ x 9′, covered porch. 576 sq. ft.
Price:
$30,459.  – as of 6/26/18
Now you have read all about this wonderful metal cottage. Like us on Facebook so you get to see all of the new metal buildings we post.

Check out the HQ pictures below.
All stats and pricing are from greenterrahomes.com. Be sure to check out their other metal home kits.
If you haven't already, please head on over to our Facebook page – Top Metal Buildings we share the top metal buildings daily.
See you on the next metal home!!